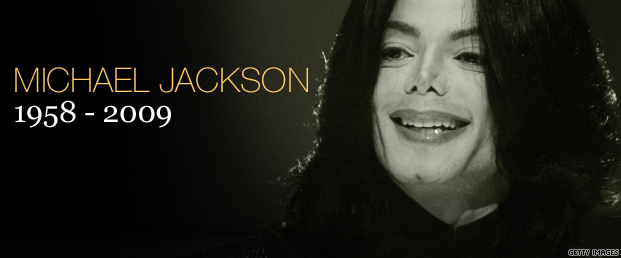 Taken from CNN (cnn.com)
Michael Jackson
, the King of Pop, has died at the age of fifty years of age. The
Los Angles Times
and
CNN
have reported that the famous artiste died in the
UCLA
medical centre after suffering from a cardiac arrest on Thursday June 25, 2009. This has certainly shocked the world and broken the hearts of many Michael Jackson fans as the King of Pop has been scheduled to have several concerts starting in the second week of July.
Michael made his debut on the music scene at the tender age of eleven as a member of the Jackson Five and gained great popularity as a part of the group. He however, launched his very successful solo career in 1971, which saw the release of some of the worlds best-selling albums:
Off the Wall
(1979),
Thriller
(1982),
Bad
(1987),
Dangerous
(1991) and
HIStory
(1995). Michael has also been credited with revolutionizing the whole music video scene with his well choreographed and story line music videos. The one that really stands out in my mind and the mind of most people is the video for
Thriller
, which was the first of its kind. Micheal Jackson has also stamped his personal touch with his own unique dance moves, including the famous
Moonwalk
, most of which has had a profound impact on the dance moves of more recent times.
But as with most great artistes he has had his fair share of scandals and highly publicized personal life. These events range from sexual abuse of minors allegations, his controversial marriage to
Lisa Marie Presley
, his financial troubles to his baby dangling incident, and his most dramatic of changing from a black man to white, just to name a few. His escapades has even resulting in him being given the nickname Wacko Jacko. Despite all these negative attention, Michael still manged to maintain high favour in the eyes of his fans.
Do doubt the death of this great, legendary artiste will prove to be a great loss to his fans and the music fraternity. Michael Jackson has certainly made his stamp on the world of music and millions of fans all over the world. Another great icon of our generation has passed.
Source: http://edition.cnn.com/2009/SHOWBIZ/Music/06/25/michael.jackson/index.html, http://www.latimes.com/news/local/la-me-michael-jackson-dead26-2009jun26,0,2152435.story, http://en.wikipedia.org/wiki/Michael_Jackson,