The Jamaica Pegasus Tweetup Banner
Twitter
has become a very powerful and influential social media tool in today's technological world which fosters not only the exchange of ideas, views and ideals, but also a very strong promotional and advertising tool. There is no doubt that one of Kingston's leading hotels,
The Jamaica Pegasus
(twitter:
http://twitter.com/JamaicaPegasus
), has grasped the power of Twitter to increase their market share and to become more connected to their Jamaican customers. The Jamaica Pegasus has made a bold step and has made a land mark move in hosting the first ever commercially hosted Tweetup!
Tweeters mingling at the tweetup
Originally the tweetup was scheduled for May 27. 2010, however due to the recent social unrest and state of emergency that engulfed the city of Kingston and St. Andrew the first ever tweetup had to be postponed. However, not to be deterred, and not to disappoint the many eager fans, the Jamaica Pegasus team rescheduled to June 18, 2010. Despite the inevitable postponement of the tweetup, Jamaica Pegasus twitter followers were unwavering in their support for this first ever social media event of its kind in Jamaica and turned out in their numbers on the 17 floor of the Jamaica Pegasus. The event stared at 6:00 pm, but I arrived fashionably late at 7:00pm, at which time there was a decent crowd of tweeters and the meeting and greeting was already in full swing. But was this all that the Jamaica Pegasus had planned for this first ever tweetup?
The Jamaica Pegasus had much more than just a bunch of tweeters meeting up to introduce themselves and to engage in endless conversations. They did an excellent job at hosting this first ever local tweetup as they provided an open bar and a buffet of delicious finger foods to keep their guests energized and in good spirits! But they did not end there! They spared no expense to keep their guests happy as they ensure the music was good by employing the services of The Captain Collin Hinds, surprised everyone with a guest performer, mister "twitter" himself Tanto Blacks and a fabulous gate prize of a trip to London via British Airways!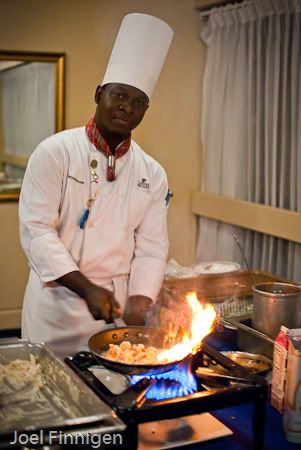 One of the Pegasus Chefs preparing shrimp pasta
The Jamaica Pegasus tweetup was a success and everyone, based on their tweets, had a great time. I got to linkup with familiar tweeters that I follow like
Jamaipanese
,
Iriediva
,
Iamsbee
and
Gordonswaby
and to meet several other tweeters that I was not famiiar with. Hopefully their will be more Jamaica Pegasus tweetups in the future and that other companies will catch on and begin to host their own tweetups.
For more coverage of the Jamaica Pegasus Tweetup visit the following friends:
Jamaipanese
,
Irie Diva
,
Corve DaCosta
and
Gordon Swaby
.
Here is a slideshow of some of the photos I took at the tweetup