Hurricane Sandy
Just a few days ago all was well in the Caribbean basin but things were about to change! A low pressure system formed on Sunday the 21st, then on Monday the 22nd it became Tropical Depression 18, on Tuesday the 23rd Tropical Storm Sandy was formed and immediately took aim at our island Jamaica. I woke up this morning to see that Sandy grew in strength and has become a Category 1 Hurricane with 80mph maximum sustained wind and now poses an even more serious threat to Jamaica. This is the first direct hit for the island since Hurricane Gilbert in 1988.
I will now chronicle the state of events as the day progresses and Hurricane Sandy makes her way across Jamaica for as long as the power will last. Stay tuned!
It's now 10:48 am in Kingston and all seems quiet apart from the constant rain that has been soaking the island since Monday. I have been seeing reports that the wind has started to pick up in the eastern end of the island.
UPDATE #1
12:13 Conditions are now deteriorating as Sandy now approaches the island. The rain has begun to increase in intensity. There has been report of flooding, storm surges in places like Caribbean Terrace and the temporary bridge at Kintire has been swept away by the raging Hope River.
View of Kingston & St. Andrew from Red Hills taken by Atom In The Skin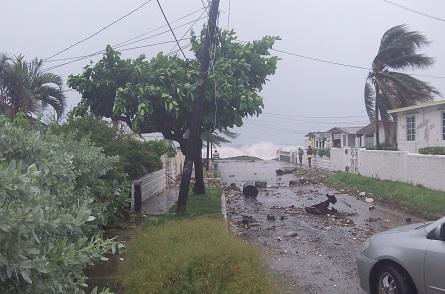 Storm surges at Caribbean Terrace Harbour View (Jamaica Observer)
Storm surge at Caribbean Terrace (On The Ground News)
Adventurous citizens running from large waves crashing in at Caribbean Terrace (On The Ground News)
UPDATE #2
12:52 The eastern end of Jamaica seems to be getting the brunt of the hurricane so far. Fallen trees have blocked some roadways and downed power poles have cut off power to many communities in Portland.
Fallen tree blocking a main road in Portland. Photo: Vidal Smith Jr.
UPDATE #3
Here is a video clip I took just after retracting my awning. This is the first of the winds associated with hurricane Sandy so far in Kingston.
UPDATE #4
Jumped on the UPS to share this quick clip of Hurricane Sandy winds here in Kingston Jamaica.
UPDATE #5
Hurricane Sandy has left the island of Jamaica but not without the scars associated with a hurricane. There have been reports of flooding, several trees are down, roads are blocked, several power lines are down leaving approximately 70% of the island without power. The city of Kingston is regaining power in may sections including where I am which go back power at approximately 12:00 midnight. The full impact will not be known until at least later today.
Down light pole in Portland. Photo: Dale Virgo
Fallen tree in an apartment complex. Photo: Stush
UPDATE #5
Photos of the aftermath of Hurricane Sandy taken this morning.
Only sections of the city of Kingston and St. Andrew has power. Photo: Atom In The Skin
Fallen trees blocking sections of Red Hills Rd. Photo: Atom In The Skin
Fallen trees on power & communications lines sections of Red Hills Rd. Photo: Atom In The Skin
Down trees along Red Hills Rd. Photo: Atom In The Skin
Citizens doing cleanup work. Photo: Atom In The Skin
Restoration work in progress along Red Hills Rd. Photo: Atom In The Skin
Fallen trees along Red Hills Rd. Photo: Atom In The Skin
Residents of White Hall Ave cleaning up debris. Photo: Atom In The Skin
A section of the Sandy Gully at Dunrobin Primary that has collapsed. Photo: Atom In The Skin